You may have noticed that our Local Lodge 714 has a bold new look.  Well at least I hope you think it is bold.
With the assistance and guidance of Frank Saptel, IAM Canada Communications Representative, a few of us budding web-stewards  are learning a whole new format for building web pages and keeping everyone up to date.
So bear with us while we make this transition.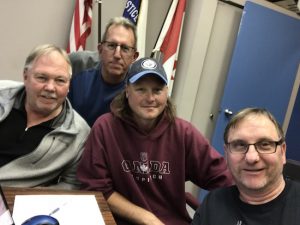 From left to right Jim Heintz LL741, Mike Maskell LL714, Neil Schultz LL608, Rennie Saj LL1953